Telesindo Playing a Role
in The Aftermath of Aceh's Tsunami Earthquake
Serambi Indonesia
After the devastating earthquake and massive tsunami hit Aceh on 26th December 2004, Serambi Indonesia - the only daily newspaper in Aceh lost 60 out of a total of 180 employees it had. The public telecommunication infrastructure was completely paralysed, cutting off Aceh province from the rest of the world.
Fortunately, Serambi Indonesia has been using VSAT (very small aperture terminal) satellite system in both Banda Aceh dan Lhokesumawe, operated by Telesindo Mulia. The VSAT at its Lhokesumawe branch was still intact and operational.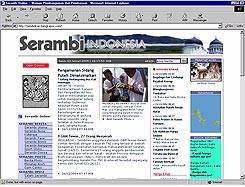 Serambi's founding editor, Mr. Syamsul Kahar requested to Telesindo Mulia to reconfigure its VSAT at Lhokesumawe branch for Internet access. The reconfiguration was done shortly after at Telesindo's network hub in Jakarta. Telesindo provided free Internet access to Serambi Indonesia via satellite during this period.
Even though Serambi Indonesia was forced to stop its daily newspaper publication, its on-line website http://serambinews.com remains operational and kept up-to-date. It managed to continue its publication 4 days later by putting up pages in Kompas national newspaper. Mr. Adrizone Zubir, Serambi IT manager expressed its gratitude to Telesindo for making it possible for Serambi Indonesia to resume its publication. It is at the forefront of the disaster and with the VSAT system, Serambi Indonesia is able to continuously feed the world with the latest news in Aceh.
(See related news on Serambi Indonesia from Wall Street Journal : http://online.wsj.com/article_email/0,,SB110478101512515545-IRjfoNllaV4m5uraHuGaamFm4,00.html )
Bank Syariah Mandiri
Bank Syariah Mandiri has been using VSAT satellite system from Telesindo Mulia, for linking its branch in Simeuleu island, Aceh for data and voice communications. After the earthquake and tsunami hit Aceh province in 26th December 2004, the telecommunication infrastructure on the Simeuleu island was completely shutdown. The only communication out of the island was through the VSAT system at the branch, that was still operational.
Desperate phone calls were made by the branch's employees to Telesindo's network hub in Jakarta pleading for emergency reliefs. The calls were patched through by Telesindo's helpdesk staffs and operators. Many wanted to contact their families to tell them of their well beings. In the first 3 days, the VSAT system was the only means to communicate with the Simeuleu island including live interviews done by Jakarta radio station DeltaFM and MetroTV station to know of the latest situation there.
Despite operating the VSAT system for only a few hours a day because of the limited fuel supply for the power generator, constant news flowed out of Simeuleu island and communications remained open during the first critical few days after the disaster hit the area. A day after the earthquake, the branch was able to resume its banking services on the island including transactions at its automated teller machine. It was the first bank to open for business.