To compete in the global business environment, it is essential for corporations to exchange a wide range of information rapidly among geographically dispersed locations. Applications such as corporate intranet, video distribution, and large file broadcast require high speed and large bandwidth. In many remote locations, delivering such information is often difficult if not impossible due to the limited terrestrial network infrastructure.
In addition, many of these information exchange is asymmetrical in nature, that is, small amount of information from remote sites to the headquarters and large amount of outbound information flowing from headquarters to one or multiple remote sites.
Telesindo Mulia's broadband services offer a fast, cost effective and high quality connection to reach remote locations. With our broadband services, companies are able to transmit not only data but also video and audio to multiple location simultaneously.
Our services are tailored to take advantage of the asymmetrical nature of the information flow. We have three distinct services to suit customers' needs and requirements: MeteorByte™, MeteorSurf™, and MeteorCast™.
MeteorByte™ service uses satellite antenna dish to transmit and receive signals. It is ideal for remote locations where terrestrial lines are unavailable or expensive. Customers who are subscribing to our StarLiteTM service can readily take advantage of the existing outdoor and indoor equipments by adding just a simple relay box and a small incremental cost.
MeteorSurf™ is suitable for corporations whose offices/branches are in major cities where terrestrial lines are available. Information is received via regular parabolic antennas in remote sites, while normal terrestrial lines is used to transmit back to head quarters.
MeteorCast™ is a one-way system whereby corporations can transmit data and video broadcasts to multiple sites simultaneously. Remote sites need only regular parabolic antennas to receive the signal. No return path is needed, as the service is one way receive-only.
As our services support a high-speed channel rate of up to 24Mbps outroute to many remote locations, many large bandwidth applications can be transmitted faster than existing satellite networks. It can support point-to-point or true broadcast at high speed.
Typical applications for video broadcast mode include video and audio broadcasting to support trainings, distant learning, deliver important speeches, communicate messages to all corporate offices, teleconference, and video relay.
Applications for data Multicast and Unicast mode includes large file transfer, Newscast, Webcast, Datacast, up-to-the-minute stock prices, currency exchange, price update, and advertising medium.
All of our Broadband solutions are backed by a proven track record in technology, service level and support. Once you sign up for our services, we will perform the complete installation at the remote sites in a matter of days. Our customers can rely on us to watch over their mission critical network, 24 hours, 7 days for every day of the year.
Contact us immediately to start benefiting from our broadband services.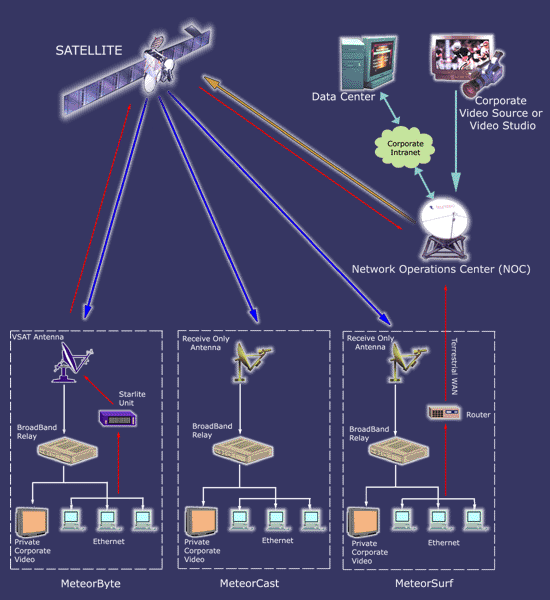 | | |
| --- | --- |
| BroadBand Specifications | |
Data Rates

:
4.42Mbps - 24Mbps
Port
:
Two Ethernet LAN 10BaseT ports (RJ-45)
Connectors
:
Ant. In: F-Connector
TV Out: F-Connector

&nbsp
Video: RCA Connector
S-Video: S-Video Connector
Audio R-L: RCA Connectors
Satellite In: F-Connector
Protocol Supported
:
IP based
Bit Error Rate
:
1x10-10 - threshold
MeteorByte™
:
Return path via StarLiteTM For further details, please refer to StarLite brochure or contact us for information
MeteorSurf™
:
Return path via terrestrial WAN E.g. Frame Relay, Leased Line, Dial ups.
MeteorCast™
:
No return path needed