Our SkyPass VSAT solution is ideal for organizations and corporations that need to setup a continuous high-speed data link between any two remote sites, in practically any location throughout Indonesia whether in a remote village or a crowded city. By installing a VSAT terminal at each site, a dedicated satellite link is established between them at a pre-defined bandwidth.

Our SkyPass solution is similar to the terrestrial leased line circuit, except that the sites are connected directly over satellite bypassing terrestrial wireline interconnections. Direct wireless link over satellite gives a consistent quality of service with superior performance and security.

When organizations bandwidth requirement grow, the VSAT terminal in each site can be reconfigured from our Network Operations Center. Typical applications that run on the SkyPass system are:


Data networking

Internet service providers

Wide - area LAN internetworking

Disaster recovery

Load balancing

Multimedia image transfer

Batch and interactive data transmission

This dedicated satellite link can be connected to a router or a multiplexer that integrates data and voice traffic. Our SkyPass system supports bandwidth rate from as low as 4.8 Kbps to 64 Kbps.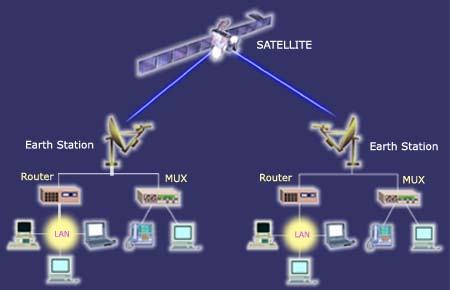 | | |
| --- | --- |
| Technical Specifications | |
Skypass VSAT terminal
Data Interface
: Female DB-25 / RS-232, full duplex, configured as DCE
Data Rates
: 4.8 - 64 Kbps (sync)
4.8 - 19.2 Kbps (async)
Rate settings: 4,800 / 9,600 / 19,200 / 56,000 / 64,000 bps
Data Protocol
: Protocol independent
Multiplexer Specification (optional)
Multiplexer technology
:
MicroBand ATM - dynamically combines voice, fax, async and sync data onto one satellite link
Data Ports
:
4 data ports
DB25 / RS-232
Port rate : up to 19,200 bps per port
Support async and sync data connection
Voice Ports
:
2 voice ports
Standard interfaces: E&M Type I, FXS Loopstart, FXO Loopstart, FAX
Enhanced interfaces: E&M Types I, II and V; FXS Loopstart, FXO Loopstart
Voice digitization rates: 4.0 to 16.0 Kbps
Group 3 fax rates: 2.4 to 9.6 Kbps