Providing telephone access to remote areas can be challenging due to terrain, remote geography, sparse population density and land access limitations. Corporations that generate large long distance calls to their branches may want to setup their own private voice network, putting the cost of their phone bills under control in a fixed monthly service fee, irrespective of usage.
Our SmartLink VSAT terminal can be installed more rapidly and inexpensively than conventional cable or wire-line systems, providing a consistent range of services, whether in a remote village or in a crowded city.
The SmartLink is a mesh telephony solution that allows voice communications to be established between any branch offices in a single satellite hop. All of the call switching is done at our Network Operations Center without going to a central PBX that would have taken up two ports at the PBX and incurred two satellite hops. The low delay of a single hop is ideal for voice communications where delay should be kept at the minimum.
Each remote VSAT terminal is given a station calling number. When the branch office dials the station number of its destination, the VSAT system automatically establishes the satellite link between the two offices at a predefined bandwidth. When the call terminates, the link is brought down. This on-demand phone link minimizes satellite bandwidth costs, compared to a dedicated link between the end points.
Our SmartLink terminal comes with initial 2 voice channels that can be configured as trunk lines to a PBX system or connected to standalone handsets. The voice channel can be used for facsimile transmission. The number of voice channels can be expanded with only incremental cost.
Besides providing voice communications, the SmartLink also comes with RS-232 port interface that can be connected for mesh, on-demand data connectivity up to 19.2 Kbps.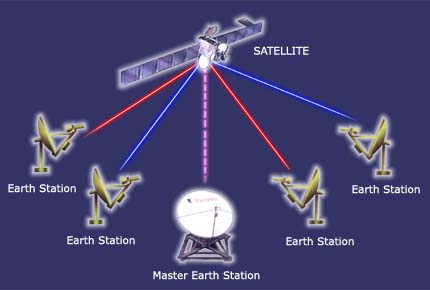 | | |
| --- | --- |
| Technical Specifications | |
Physical Interface
RJ-45 (voice)
RS-232 (data)
Voice Interface
4-wire trunks for analog/digital PBX (E&M loop type 1-5)
2-wire subscriber lines
Voice Signaling
R1, R2, DTMF, dial pulse, custom signaling
Support analog or digital PBX
Analog to Digital conversion
Full transparency to DTMF signaling tones
Voice Compression
16 Kbps (RELP)
32 Kbps (ADPCM)
Fax Interface
9600 bps with Group I and III compatibility
Data Port Rate
up to 19.2 Kbps asynchronous